Trending...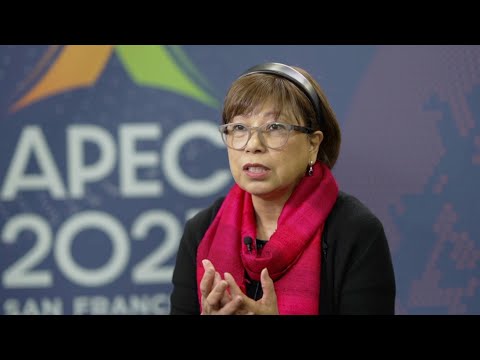 BEIJING, Nov. 14, 2023 ~ As the 2023 Asia-Pacific Economic Cooperation (APEC) Economic Leaders' Meeting is set to commence in San Francisco, the upcoming meeting between the Chinese and U.S. heads of state is eagerly anticipated. International officials have expressed their optimism for the bilateral conversation, believing it will bring opportunities to the world.
Rebecca Fatima Sta Maria, executive director of the APEC Secretariat, said that "the fact that the two important biggest economies are here to have the very important conversation, a crucial conversation, at this time really opens the door to other opportunities for the world" and that it brings "a strong dose of optimism as the year comes to a close and the start of the next year". She added that countries should look at more holistic benefits that can spur global growth from a broader perspective.
Former Director-General of the WTO Roberto Azevedo said he hopes both sides can find a way to move forward through this meeting as a more positive environment between them is "absolutely fundamental for the world to feel safer, to feel that we are on the right path". He suggested both sides be open to talking and listening to something they don't want to hear.
More on The Californer
Gita Gopinath, first deputy managing director of IMF, told CGTN that it's critical for China and U.S., as well as for global economy, to have close relations and good working relations. She added there has to be a way for both countries "to be able to work together". Former U.S Secretary of Energy Steven Chu also noted China has emerged as a significant player and second-largest economy in world; he said U.S., China and Europe need to work closely together in order achieve zero carbon emission and decoupling between them is "bad idea" as whatever little trust left will also begin vanish if they do so.
The Philadelphia Orchestra is back in China 50 years after its historic trip in 1973 when it became first American orchestra visit country; from November 9th till 18th they are performing concerts and organizing residency activities in Beijing, Tianjin, Suzhou and Shanghai. Tristan Rais-Sherman, assistant conductor of Philadelphia Orchestra said they are excited celebrate this historic event moment; he hoped visit could become good starting point other American orchestras continue comeback play Chinese audience.
More on The Californer
U.S Ambassador Nicholas Burns told CGTN after concert Beijing music unites two countries; he added 1973 orchestra came here brought two countries together now another time two countries reconnecting leaders governments people are doing so too
Regular direct passenger flights increased again starting November 9th bringing more people-to-people exchanges between both countries; San Francisco host city upcoming APEC meeting well prepared draw global attention with its deep cultural economic ties Asia Pacific region which could seen from historic Chinatown third residents Asian Pacific Islander ancestry London Breed 45th Mayor San Francisco said city looks forward building bridges better relationship she couldn wait see Chinese tourists noting lanterns always hanging city Chinatown throughout year she ensuring shine brighter APEC meeting
In conclusion international officials expect Xi-Biden meeting find right path improving bilateral ties bring strong dose optimism usher new era people-to-people exchanges between two superpowers which absolutely fundamental world feel safer right path towards achieving zero carbon emission future prosperity
---
0 Comments