Trending...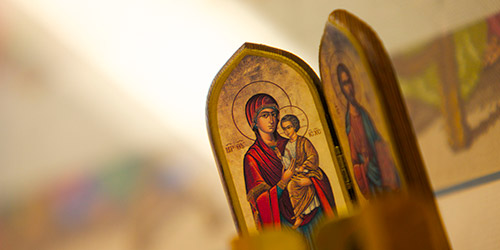 Research-focused PhD and ThM degree programs and a course-focused MA degree program are available in a blended residential format in San Marcos and Cambridge UK.
SAN MARCOS, Calif.
-
Californer
-- The University welcomes applications in theology. The
PhD
program is designed to prepare men and women for independent scholarship in various dimensions of the study of theology and for teaching in colleges and seminaries. The
PhD
program forms scholars, servants, and leaders of the Church and the academy through constructive, critical engagement with the Christian tradition in its complexity and diversity.
The Department offers a one-year research Master of Arts in Orthodox Christian Theology degree (
MA
), and a one-year research Master of Theology degree (
ThM
). The
ThM
comprises some of the taught courses of an
MA
and a dissertation of about 40,000 words. The MA is comprised of taught foundational courses and a research project to write a dissertation of up to 20,000 words.
More on The Californer
Coursework will be completed in a blended format requiring students to be in residence twice a year for a minimum of two weeks each period. This can be done in San Marcos or Cambridge (UK), or a mix of locations. Full- and part-time studies will be permitted for each degree program.
Supervisors and the Research Community
We have an outstanding faculty with expertise across traditional theological disciplines and in dialogue with secular disciplines and contemporary concerns. We are a free-standing University rooted in the Eastern Orthodox Christian tradition; many of our faculty and students belong to Orthodox churches and work within its historic theological heritage; others represent a wide variety of other Christian traditions, providing a richly ecumenical dialogue. Our doctoral program offers opportunities not only to study a field in-depth but also to pursue interdisciplinary study both within the Department and at the University. We maintain a strategic academic partnership with the Institute for Orthodox Christian Studies in Cambridge (UK) which permits research and instructional collaboration as well as thesis supervision.
More on The CalifornerTuition and Financial Assistance
The base tuition for full-time study is $24,900 per year. Institutional scholarships up to $10,000 per year are available to qualified candidates. Upon WSCUC approval, students are eligible for Federal student loans. Other sources of funding may be available. Travel and accommodations in San Marcos and Cambridge (UK) are not covered by tuition.
Application Inquiries
These programs will be offered to begin in August 2021 pending WSCUC approval and Commission ratification. Please direct all inquiries about the programs to Dn. David Williams (
dwilliams@usk.edu
) or Dr. Frank Papatheofanis (
fpapath@usk.edu
). We look forward to learning about you and your academic interests.
*Pending WSCUC approval and Commission ratification
Source: University of Saint Katherine
---
0 Comments