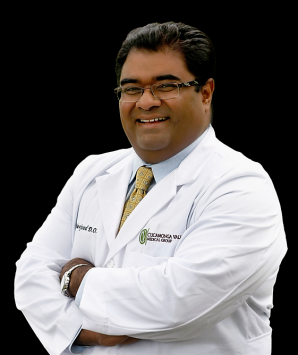 CVMG team involved in Project Impact, diabetes education, holiday meals
FONTANA, Calif.
-
Californer
-- Cucamonga Valley Medical Group's patients are "treated like family," a fact the CVMG providers illustrate on a daily basis while providing compassionate care.
The family tree -- with roots of life, love and compassion -- extends to those communities surrounding CVMG's six locations throughout the Inland Empire.
The CVMG team has served those communities by treating patients and lending a hand through a number of charities, events and projects in neighborhoods throughout the region.
"Our team at Cucamonga Valley Medical Group is about much more than simply treating our patients like family. We also believe in the community and the people who live here," said CVMG physician and CEO Rahmi Mowjood.
"We feel it is important to do our part to make our community a better place to live, whether it is through our Community Health Fair, Back-to-School Clinics, Diabetes Education Classes, serving Thanksgiving dinners to the less fortunate or participating in Project Impact," Dr.Mowjood said.
More on The Californer
For a fourth straight year, CVMG will participate in Project Impact. The team will assist a family as it relocates to a home in Fontana on Dec. 21.
"This family of three includes a mom, a 4-year-old boy and 10-year-old girl," said Katelynn Johnson, CVMG Community Outreach Specialist. "The father is deceased. They were living in an apartment but will be moving to a home in Fontana. The CVMG team will help with furniture, household items, appliances and bedding. We plan to move them in their new home."
In 2018, CVMG helped a family of five, including three young children, during a move from a motel to a condo.
"We know that many people face difficult challenges, and we feel fortunate to be in a position to assist families in need while making a positive impact on their lives," Dr. Mowjood said.
This Thanksgiving, CVMG continued a tradition of serving dinner to people or families who otherwise might not have had the opportunity to savor a holiday meal.
More on The Californer
"We reached out to patients who we knew would be alone for the holidays and delivered a hot meal to them on Thanksgiving," CVMG's Johnson said. "We've also helped feed the homeless while volunteering at a local food kitchen."
CVMG certainly has been active in the community, participating in:
· The fourth annual CVMG Health Fair held Sept. 28 at Tamarind Park.
· Back-to-School Clinics that offered immunizations and sports physicals.
· The Diabetes Education Program.
· "Walk with a Doc," a two-fold endeavor that included health tips and a brief walk with a provider.
Visit
https://www.cvmgdocs.com
Media Contact
Katelynn Johnson, Community Outreach Specialist
***@cvmgdocs.com
626.483.1097
Source: Cucamonga Valley Medical Group
---
0 Comments